Welcome!
The University of Connecticut Chapter of SIAM was established in 2017.
The purpose of our chapter is to unite students who are interested in applied and industrial mathematics, to  promote interdisciplinary interaction between students at UConn, and to build a connection to industry.
If you are interested in becoming a member of our chapter or want to be added to our mailing list, please write to siam_math@uconn.edu.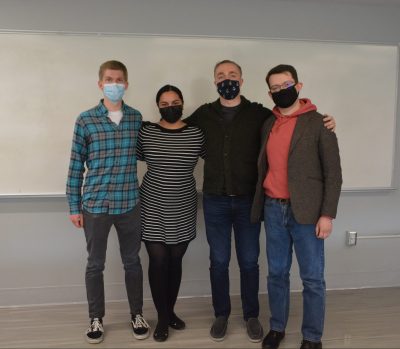 News
Quantum Computing Workshop 2022

On March 26th, 2022, we ran the Quantum Computing Workshop with our invited key-note speaker, Gamal Mograby, from the University of Maryland. Our day began with an introduction to the notation of Quantum Computing by Thomas McGrath. Followed by a review of Probability and Linear Algebra necessary for Quantum Computing by Rachel Bailey and Anastasiia […]

Posted on

May 9, 2022
Linear Algebra and Coffee, Season 2, Episode 1

On February 16th, Erik Wendt gave a fascinating presentation introducing attendees to some of the ideas of Pseudospectral theory. He led us through the basic concepts, definitions, and foundational theorems in play in order to be able to dive deep into applications in future presentations. Thank you so much Erik. On Wednesday, Feburary 23rd, we […]

Posted on

February 19, 2022
Contact information:
SIAM Chapter
Department of Mathematics
University of Connecticut
341 Mansfield Road U1009
Storrs, Connecticut 06269-1009